There was a time when your success was merely dependent on your capacity to perform well. In today's era, if you want to be a successful man, you need to focus not only on your performance ability but on your personal appeal as well.
The way, you get dressed for professional events, reveals about your personality and if you dress up well, it increases the chances of promotion. As fashion has become flexible so your formal attire tends to be more noticeable.
When I say "formal attire", it includes your suit which must be according to your body shape, accessories which should be well-coordinated with your outfit and your footwear that must be formal and polished.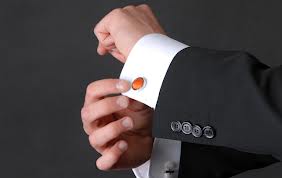 When you have to dress up for formal occasions, there is not much room of creativity as formal intends to be formal without any exceptions.
Accessories have great importance when you are going to dress up formally. Men have limited options for accessories and cufflinks are an important part of it. You can show off your individuality with the pair of cufflinks on your crispy French cuffed shirts.
Men's Cufflinks are usually worn by top executives to convey power signals to their sub-ordinate. You may not wear cufflinks to a daily basis work environment unless you are boss but you can wear them when attending any formal events or interacting with your important clients.
You don't need to confuse yourself with a verity of Men's Cufflinks available in the market. Always choose a pair that complements your overall appearance and style. It should not be too loud and tacky because the perfect pair of Men's Cufflinks can transform your appearance from good to extraordinary.
Designer's cufflinks can be your wise choice and in reference to the designer's cufflinks, Tateossian is the best brand. The King of Men's Cufflinks feature stones, carbon fiber, enamel, gunmetal and rhodium which have far-flung appeal. Tateossian cufflinks are designed to add a splash of elegance to your outfit.