Since the dawn of time SuperHeros existed in many cultures from Sea to Shining Sea. People have worshiped Hero's in Ancient Cultures of Eqypt called Gods and during the Rein of the Roman Empire. Many people to this day in cultures worship heroes of sorts in many countries.
America Famous Characters
Today in America Superhero worship and enjoyment are on a whole new level with movies like "Batman Begins," "Superman Returns," "Watchmen," "The Spirit," "The Hulk," and many more we are seeing that America needs Hero's. The Economy is in a recession and people are looking more to movies to find out what they are missing. The Audience, the American People can be anyone they want to be or anyone the "Silver Screen" puts on for at least 2 to 3 hours.
Hancock a movie of ages depicts "Will Smith" as someone who woke up with two theater tickets in his pocket, no memory, and superhuman strength and speed. He is able to do everything from Fly to Pick up a Mountain like a baseball, but he is lonely, he is depressed and all he does is show the world he doesn't care until he does. Now we all care in America, we all want that hero, we all want to be that Hero, and Be all that we can be…for an hour or two.
Hero's are created from nothing and they become GODS, now it is your turn to turn your idea into the next movie. Hancock was based on a small idea, now let's bring your BIG ideas and make them legendary.
Superhero Cufflink Designs
Superman, Batman, Spiderman, Iron Man, and many more superheroes have been employed by the Cufflinks Institute to illustrate the parallel worlds occupied by fantastical creatures with superpowers and creative fashion designers of fashionable cufflinks.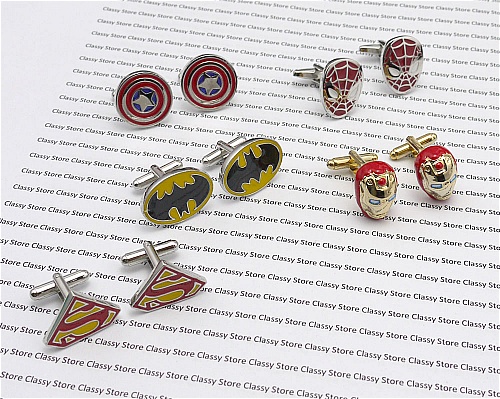 Take a look at these cufflink designs, these "Superhero Mixes," this will give you an idea of what cufflinks can be made. If you have ideas share them with us.