One of the rising fashion trends today is the use of cufflinks. They are used to secure button cuffs. They are also considered today as a jewelry item for men. Not only are these used for securing buttonholes, but they are also commonly used as a gift during special occasions.
They are widely used during weddings and custom made to be given to members of the family. For weddings, one popular design is the "Father of the Bride" cufflinks, which are given to fathers to show their important job in their daughters' special day.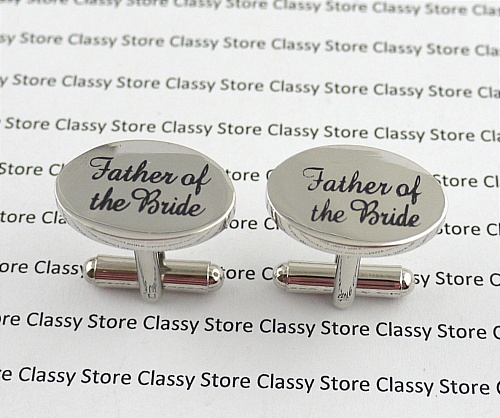 Set a unique style as you give the first man in your life a stylish cufflink that would make him feel how much he means to you, especially as you walk down the aisle. Father of the bride cufflinks is perfect gifts by brides-to-be to their dads on their wedding day.
They can be customized with any design that you prefer. Usually, they are circular in shape, and sizes are ranging from one to two centimeters in diameter, but they can be also shaped into squares with a size range of 3 cm. x 1.50 cm. They are available with either silver plating or antiqued with a brass coating.
Text prints are either black in a white background or white text in a black background. Cufflinks are usually made with stainless steel to ensure quality. The text or image is enclosed in a protective glass dome. This dome is a grade resin that has a magnifying capability to create a 3D effect and display the text clearly.
They can also be lined with satin material to prevent scratches and to add style. To present them, they are placed and beautifully presented in a gift box. You can also write messages to add your personal touch.
Many are already offering their services to make cufflinks. Designs will be based on your preference if you want them to be personalized, but they are also available with cufflink design suggestions from the simple ones to the detailed cufflinks that will surely suit your style and taste.
As you walk down the aisle, these "Father of the Bride" cufflinks will surely be a heartfelt gift for fathers. That would be nice if they feel happy as giving away their daughters' hands in marriage. Think out of the box and start to turn these little accents into unforgettable commemorative gifts as you celebrate a special moment in your life.