Gifts For Groomsmen By Personality
If you want to get all of your groomsmen's ideal gifts, don't just select the same item for each guy. Pick gifts based on the personality of each groomsman. To get you started on ideas, we've selected some groomsmen gift ideas based on personality type.
The Gadget Guru – This pal of yours has all the latest high-tech gear and frequents CNET as his information hot spot of choice. For all of your gadget guru groomsmen, fill up a gift bag full of nifty items, like a Wi-Fi signal detector, an AA battery turbo cell phone charger, and a pocket-sized digital key chain.
The Music Lover – Get your music-loving groomsmen a set of his favorite music. But package it up in an elegant CD holder with his monogrammed initials on it. Any groomsman will not only appreciate the tunes but the style of the case.
The Chef – Does one of your groomsmen have a talent with the grill? Send him off to a cooking class to fine-tune his talents.
The Kid at Heart – If one of your groomsmen just refuses to grow up, cater to his sense of playfulness by indulging him in a game to play. A board game like Brew-apology will make a fun night for all of the guys.
Gifts Just For Your Best Man
The best man of your wedding is someone who has been through thick and thin with you. You've probably known him for ages and can count on him for just about anything. During your wedding, show your appreciation by giving him a gesture of thanks. Here are some best man gift ideas that you can give your best man.
Expensive – For the best man who's flown 500 miles to be a part of your wedding, it might be a good idea to allow him to travel somewhere on his own. Purchase plane tickets for your jet-setting best man and place them in a leather passport holder as an attractive gift.
Moderate – Got a best man who's a golfer? Treat him to an afternoon of golf lessons and his personalized golf balls to boot.
Budget – No one said you have to spend a bundle to show your appreciation to your best man. Give a gift that's within your budget that he'll appreciate. For the gadget lover, get a personalized pocketknife containing essentials from scissors to a screwdriver.
Give Your Groomsmen Favors
One way to show your groomsmen your appreciation is by giving them groomsmen favors. And by favors, we don't mean the typical petite packages of sweets or tiny photo frames that one gives away at weddings. Instead, you can offer to lend your best buddies and closest relatives a hand with something much needed in the future. When it comes to favors, the sky is the limit. For the philanthropist, you can offer to volunteer time to his favorite organization. If you've got a few jet-setting groomsmen in your wedding party, offer to house-sit the pad during their travels away.
However, keep in mind that a verbal promise offers little to remember your words by. Instead, get creative and offer your promise of a groomsman favor up in an actual groomsman favor box. Print your favor up in an elegant message for your groomsmen to hang on to until you're paid up on your favor.
Groomsmen Gift Ideas They'll Love
Looking for groomsmen gift ideas? Giving away gifts to your bridal party is a way of showing appreciation and thanks for their support and participation during your wedding. If you're stumped for ideas, we've got some groomsman gift ideas for you here.
The travel bag – There's no doubt that a groomsman has a lot of packing to do in preparation for the wedding day. Between the tuxedo, a change of clothes, and everyday toiletry items, there is a weekend's worth of items to carry. Give each of your groomsmen a personalized travel bag to thank them for their troubles.
Engraved Cufflinks – Give your groomsmen something they can use for the wedding and beyond. Engraved cufflinks make an elegant gift with a personal touch. Add their first initial to the engraved cufflinks for a memorable gift.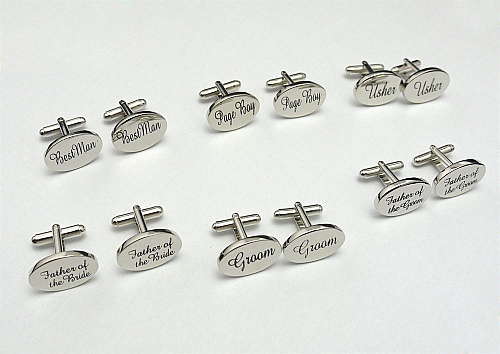 Sports Package – If your groomsmen are sports fans, then get them a gift they can look forward to enjoying after the wedding. A sports package can include game tickets, a commemorative book, and a tailgate accessory. One item your groomsmen can put to good use is a personalized cooler chair. They can use it for storing easily accessible drinks and as a convenient seat during the pre-game party.
Three Useful Groomsmen Gifts
Let's face it. Some of the groomsmen's gifts are no more than tokens of appreciation. After the wedding is done, there's no use for these groomsmen gifts. However, there are gifts that you can give to your groomsmen that they can use and appreciate long after the wedding is over. Here are some ideas for useful groomsmen gifts.
Leather Wallet — It's practical. It's attractive. And what guy doesn't need a wallet to hold his cards and cash? It's also an affordable present for your groomsmen. You can purchase one for under $40.
Pocket Watch – This elegant gift goes well with a groomsman tuxedo on the wedding day. But it's also a cool enough gift that your groomsmen will want to use their pocket watch for other events as well.
Messenger Bag – Whether it's a casual day at work or a weekend out, the messenger bag makes a practical gift that can carry essentials during the wedding day too. Personalize each one with a groomsman's initials. Your groomsmen will appreciate getting a gift they can use that's stylish as well.