In recent years, most of the American superheroes that show on a big screen in Hollywood can be said all them only turned to invincible after the scientific spoof.
For a superhero who is not innate with the superpower, non-experimental accident or failure, non-coercive winning, not self-sacrifice, and is possessed with a positive image in his superhero role, it seems only Captain America has all the above-mentioned features.
He volunteered to be a soldier and went through a super-soldier experiment. He was a good man before the transfiguration, and become an even better man after the transfiguration.
The Super-Soldier Serum and Vita-Rays radioactivity that imposed on him has made those substances like lactic acid that can be caused muscle fatigue completely metabolized.
This not only strengthened his metabolism functionality but also gave him the endurance which completely can't be imagined by a normal person. The endurance includes running a 1-mile distance in less than 1 minute which is perfectly achieved the goal that scientist wants.
The feasibility of the creation of Captain America from a scientific point of view, the answer is impossible. Thing like steroids is no way to grow the muscles in a human body without doing any exercise. Or the shield attack at a similar pace on the direct angle and reflect angle.
Furthermore, human beings won't live the same way as Captain America who reaches the age of 90 but still does not look old. What's more feasible would be through the implementation of external armor, which is similar to Iron Man's way to strengthen the power and ability of soldiers.
If Captain America is on a mission in modern warfare, will he be able to play his role? Soldiers nowadays should care less about building muscles, senses, endurance, etc. Rather they should strengthen language skills, cultural understanding, diplomacy communication skills, etc.
Those soldiers that possessed these skills are having the ability to determine the environment and cooperation with the local people and therefore can reduce the use of weapons and casualties to a minimum.
The purpose of the war, if there is a purpose should be not to let the war break out again. While for a body that has been transformed into a war machine superhero¸ the only thing that he can do is always find the next battlefield.
Superhero Captain America Cufflinks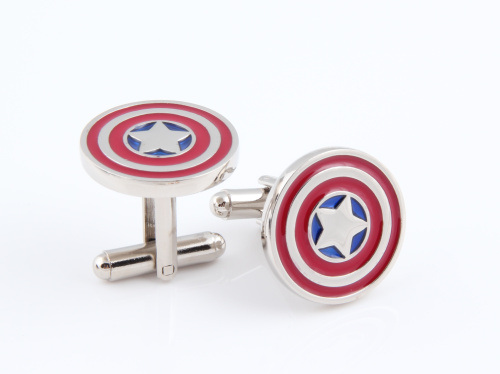 Captain America Tie Pin